A proactive branding agency
Since uncloaking AdBrand nearly 10 years ago, our values haven't changed, our process has evolved and our efforts enhanced, yet our values remain as focused and consistent for a decade. As we are a popular go-to agency with hospitality clients, we introspectively assess how and why. This blog post will showcase an example of our work, what we do and how we do it.
One of the reasons for our humbling success is our proactive approach to clients. We have a creative ignitor, develop a concept and then pitch these to clients with or without a brief.
Following a coffee chat with one of our favourite properties within the Accor Hotels group, the conversation blossomed and the ideas started rolling, so with my notepad and pen I started conceptualising a solution. This is how it went: "We want to start a ladies night. Something different, something very cool, sophisticated and welcoming".
Having a team of passionate creatives surrounding me at AdBrand we began discussing ideas, researching and sketching out possibilities and one stuck out "What about Havana Nights, but not quite?" Intrigue captivated me, we then focused our ideas. Havana/Cuba synonymous with passion, flair, dancing, music, cocktails, cigars, love, colour gave us the ingredients for a creative dish, yet "Havana but not quite" still resonated. What about Halfway to Havana?! For many who 'don't Salsa' walking into a bar which 'does' can be quite intimidating, and we want this local bar to be welcoming to all.
We applied our creative process to the brief (Understanding, Personalisation, Concept and Roll Out). What a journey it was. Before long our server was bombarded with ideas, images, stories, videos, articles and we filled the air with Cuban music for several days.
Our Design Director Hari began looking at typography, you'll see the customised font ligatures are contemporary and eliminated giving a 'half-finished' visual.  Application of the typography on big-bright-dirty-pastel backgrounds works beautifully (we hope you agree), the messaging is clear, yet not over delivered and the adaptability of the brand gives this project a festival and celebratory feel.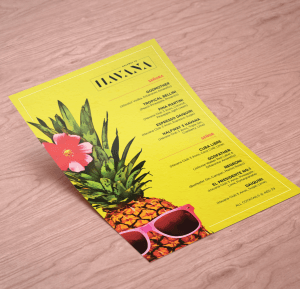 Myself and the production crew (VideOh.tv) began developing content strategies for Social Media, Videography and Photography styles of Halfway To Havana, and the application to engage audiences whilst telling a story. I believe the teaser video to showcase the event without telling too much, (you'll have to go/see for yourself).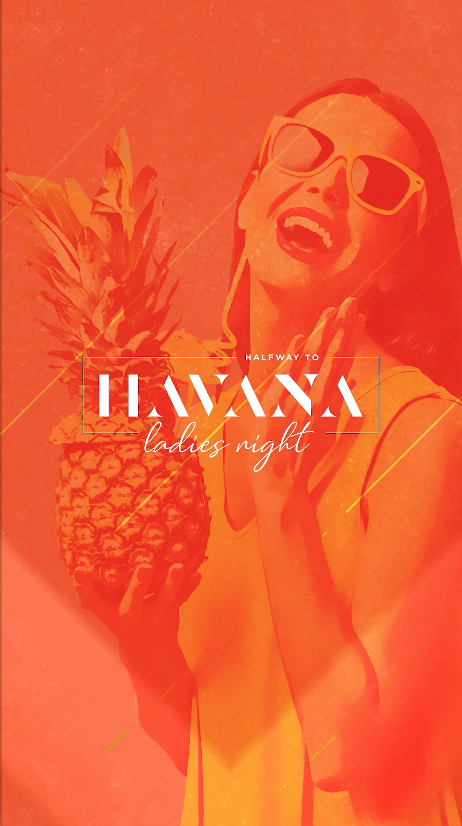 Halfway To Havana VideOh.tv
Whilst this was going on the dotcasting team were busy trawling their Talent database for a Latin Jazz band, but it couldn't be anyone, it needed to be the one. Various interviews, auditions took place until we secured an incredibly talented duo who can perform and play over a dozen instruments and absolutely get the concept (you know when you've captured the imagination of a Latin American, it's in their eyes).
So far we've developed the understanding, personalised the brand, focused the concept and all that was left is to place the ingredients together, roll out and launch.
It's Tuesday 18th June 3:52pm, I'm sat typing the blog of our journey so far, private invitations have been released and RSVPs are filtering in, the anticipation of us all is electric and there's still Latin Jazz in the air! If you read this blog and wonder what a branding agency does, this should explain. Many just design, but a proactive branding agency are immersed from the beginning and that doesn't waiver with AdBrand.
You might be wondering where to go on a Tuesday night in Dubai? Where's the best ladies night in Dubai? New bars in Dubai? I'm pleased to share the details with you.
Introducing: Halfway To Havana
Twenty Three
Grand Plaza Movenpick, Dubai Media City
Tuesdays from 19:23 through 02:23
Follow on instagram: @tt_dxb
Hopefully, you'll believe in what we do as a proactive branding agency, be impressed with the work and invite us for a creative coffee chat to see how it can percolate into something incredible.
Have a great day, and thank you for taking the time to read.
Adam Ridgway
Creative Director
AdBrand.tv
"YOU ARE WELCOME TO CONTACT ME DIRECTLY"
MEDIACUBED is a group of companies based in Dubai since 2009 and includes;
AdBrand.tv – A Creative Branding Agency
VideOh.tv – Video and Content Production
Dotcasting.com – Casting and Talent Agency
Travall.tv – Travel and Tourism content and marketing
One-Moto.com – The UAEs first electric motorbikes